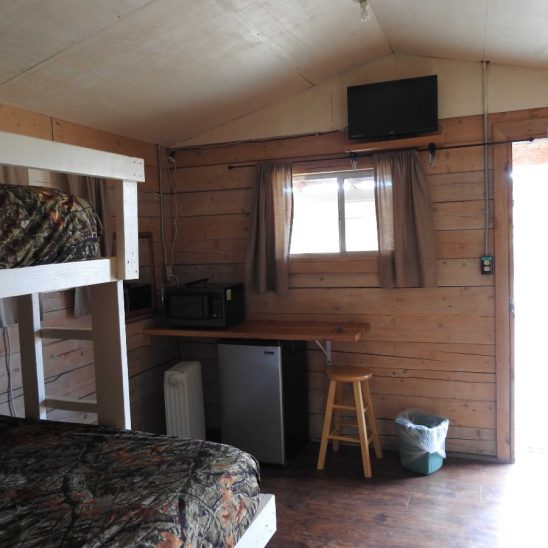 Newly upgraded deluxe log cabins
Our newly upgraded deluxe log cabins rentals measure approximately 10'x 12′. They comfortably sleep 4 to 5 people and include pillow top mattresses on 1 queen bed, and 2 bunk beds. Appliances such as a TV, refrigerator, microwave, air conditioner, and heater are all new. Each cabin comes with a covered porch, covered picnic table and grill.
Nearby Amenities
On-Site Swimming Pool and Hot Tub Area  •  Sparkling Clean Bathrooms and Showers    •   Full Laundry Facilities and Dish Sink – Available 24 Hours
Cabin Rates
$65.00 – $67.00 Per Night
Each Cabin – For Two People
$3.50 For Each Additional Person  Six  Years and Older
Pets OK: $5.00 Each Night, With Prior Approval
5% discount on cabins is offered at check-in for AAA, Good Sam, AARP or U.S. Military Members
Come Prepared with Sleeping Bags, Bedding and Towels
Bedding is Available for an Extra Charge
No Pets are to be Left Unattended in Cabins!